Next Meeting 
We're taking a break for summer but will be back in September!
---
Due to the pandemic, meetings are being held online. Checkout what we're doing, saying, and meeting about these days on our Facebook page:  https://www.facebook.com/groups/aauwhuntsville/
---
In case you missed Julian Butler's live presentation, you can view it on YouTube at this link:
Alabama Courts with Julian Butler – January 2022
Thanks to Kathy Jones for collecting and editing the video, Amanda Foster for setting up our new channel, and Cate, Ellie and Tedi for helping to solve the case if the elusive email account! (You had to be there!)
---
2021 – 2022 PREVIOUS Meetings
***** Breaking Through Barriers Event *****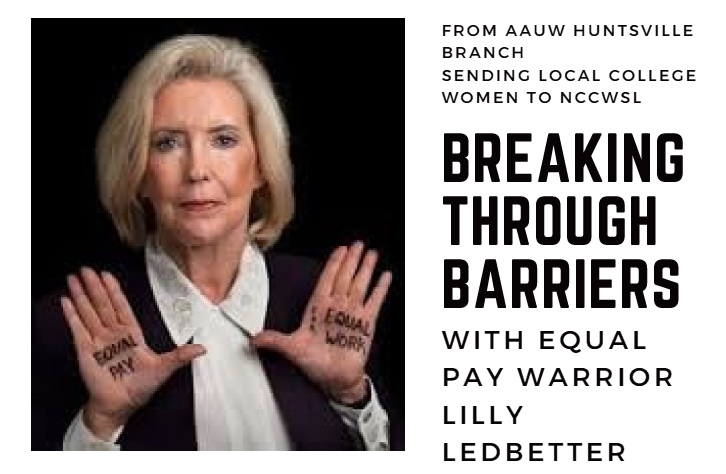 Click this link for the full flier: AAUW Huntsville Branch 2022 Breaking Through Barriers Luncheon
Join Lilly Ledbetter and the Huntsville Branch of AAUW for the first Breaking through Barriers event in two years!
Lilly will be our guest speaker as we raise funds to send local women college students to NCCWSL '22.*
Friday, April 8, 11:30 – 1:00
The Jackson Center, 6001 Moquin Dr. Huntsville, AL 35806
Lilly has an amazing story that you don't want to miss – from her!
Tickets: Registration is now Closed.
For 10 years, Lilly Ledbetter fought to close the gap between women's and men's wages, sparring with the Supreme Court, lobbying Capitol Hill in a historic discrimination case against Goodyear Tire and Rubber Company.
Ledbetter won a jury verdict of more than $3 million after having filed a gender pay discrimination suit in federal court, but the U.S. Supreme Court later overturned the lower court's ruling. Despite her defeat Ledbetter continued her fight until the Supreme Court decision was nullified when President Obama signed into law the first new law of his administration in 2009: the Lilly Ledbetter Fair Pay Act.
Lilly's book, "Grace and Grit: My Fight for Equal Pay and Fairness at Goodyear and Beyond" will be available and she'll be signing them.
Tickets & Tables: Registration is now Closed.
*AAUW's National Conference for College Women Student Leaders (NCCWSL) is where hundreds of young women come to turn a moment into a movement. Each year, we bring together hundreds of college women from around the country for three days of leadership training, inspiration and networking. They return home changed for the good from their experience at NCCWSL.
Invite and share with friends.
Thank you, and we hope you'll be able to bring a table of women who will benefit from hearing Lilly's story!
---
David Worley: Operation Green Team (AAUW Huntsville March meeting)
TUESDAY, MARCH 1, 2022 AT 6:30 PM – 7:30 PM CST
David Worley, representing the Green Team of Huntsville will be our speaker.
What do you know about Huntsville's Operation Green Team? They probably impact your life every day – in ways you don't even know. Come learn the ways!
AAUW Huntsville monthly program meeting will be Tuesday March 1st, 6:30 p.m. via zoom, followed by a brief business meeting.
---
February 2022 Meeting on Zoom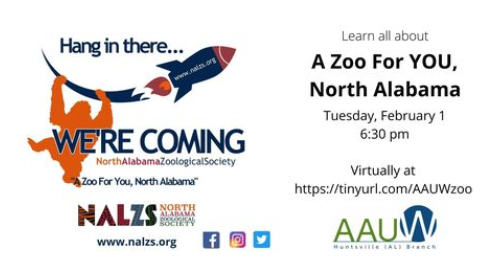 Plan to join us as we learn about the next big quality of life boost to hit our area: The North Alabama Zoological Society will tell of their plans to establish a zoo locally and share their progress.
February 1, 6:30 – 7:30 pm on Zoom
Rachel Hackworth, development director, and Kendall East, NAZS board member (and former AAUW member) will present.
We will then have an important business meeting, so please attend.
Guests are welcome!
---
January 2022 Meeting on Zoom
In case you missed Julian Butler's live presentation, you can view it on YouTube at this link:
Alabama Courts with Julian Butler – January 2022
Thanks to Kathy Jones for collecting and editing the video, Amanda Foster for setting up our new channel, and Cate, Ellie and Tedi for helping to solve the case if the elusive email account! (You had to be there!)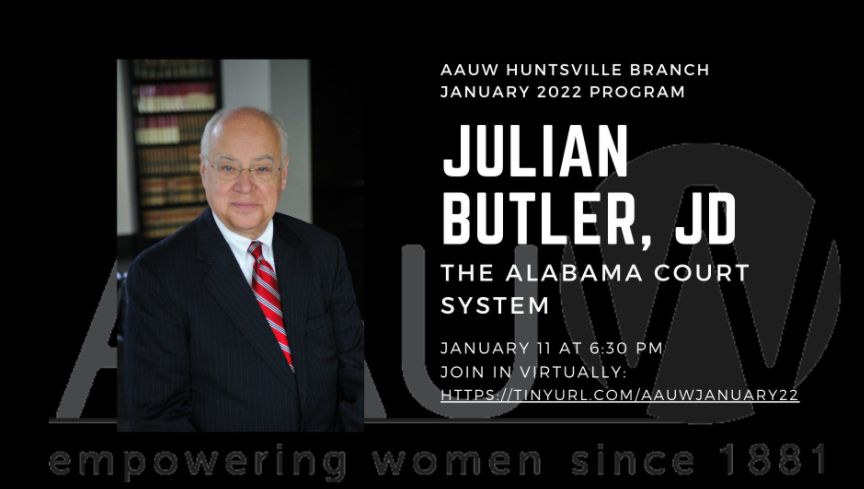 Event: Julian Butler:  The Alabama Court System
Time: 6:30 pm
Where:  Zoom
One of the best-known orators of our community, Julian Butler will present our January program, The Alabama Court System.
You won't want to miss this program.
An accomplished individual, Julian Butler is a shareholder in Dentons Sirote's Huntsville, Alabama office, representing clients in civil litigation matters. One of Julian's focus areas is local government law, having served as the Madison County Attorney for 35 years, where he has contributed to phenomenal growth in the local community and improved the quality of people's lives.
The Alpha Phi Alpha Fraternity Education Foundation awarded Julian the Martin Luther King, Jr., Unity Award "for Outstanding Service in the Area of Human Relations" in 2018, and the Huntsville-Madison County Bar Association honored him with the Community Service Award—twice. Active in both the state and local level of the Democratic party, the Jefferson County Progressive Democratic Council, which was the first African-American political action group in Alabama, gave him the Certificate of Merit in 1971 for "exceptional and extraordinary service in the field of civil rights and political advancement of the community."
Julian has been prolific in the community throughout his lifetime, reinforcing his core belief that lawyers ought to give back. He has served as the Chairman of the Alabama State Bar's Environmental Law Section; on the board of the Alabama Humanities Foundation, the University of Alabama's Library Leadership Board, Board of Trustees of the Alabama Department of Archives and History; Vice-President, Alabama of the Eleventh Circuit Historical Society, and the State and Local Legal Center in Washington, D.C.; and was the president of The Arts Council and the National Association of County Civil Attorneys.
---
2020 – 2021 PREVIOUS Meetings
May 2021 Meeting on Zoom
Join the Huntsville Branch of AAUW virtually for our last meeting of the year before we break for the summer.
Join us to welcome our speaker, Jennifer Carden from Hudson Alpha. She will speak on some of the research and development projects plus some of the newest outreach programs they have planned for the community. 
We'll also surprise a very giving member with the annual Eve Award. 
Where: Zoom
When: Tuesday, May 4, 2021
Time: 6 – 7 pm
---
April 2021 Meeting on Zoom
Discussion of How Parents are Impacted When a Child Identifies as Transgender and Alabama SB10, Making Providing Care to a Child Who Identifies Transgender Illegal, with Guest Speaker Laura A. Lopez, MA ED. ALC
Where: Zoom
When: Tuesday, April 6, 2021
Time: 6 – 7 pm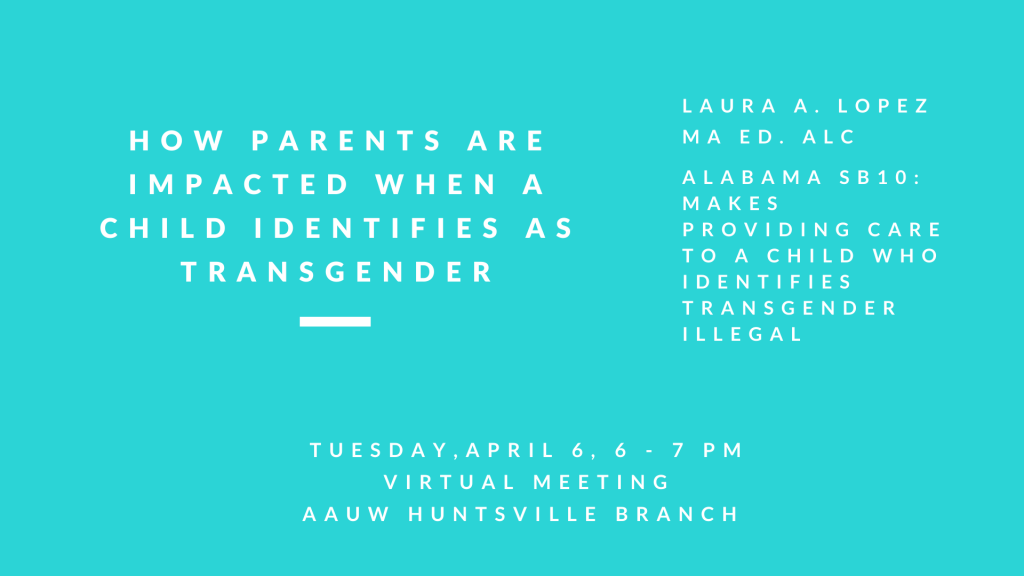 ---
March 2021 Meeting on Zoom
Join us as we welcome County Commissioner Violet Edwards.  Commissioner Edwards is currently focused on providing COVID-19 relief for her constituents, recently securing $5.2M for emergency rental and utility assistance for her district and Madison County.
Tuesday, March 2nd at 6 pm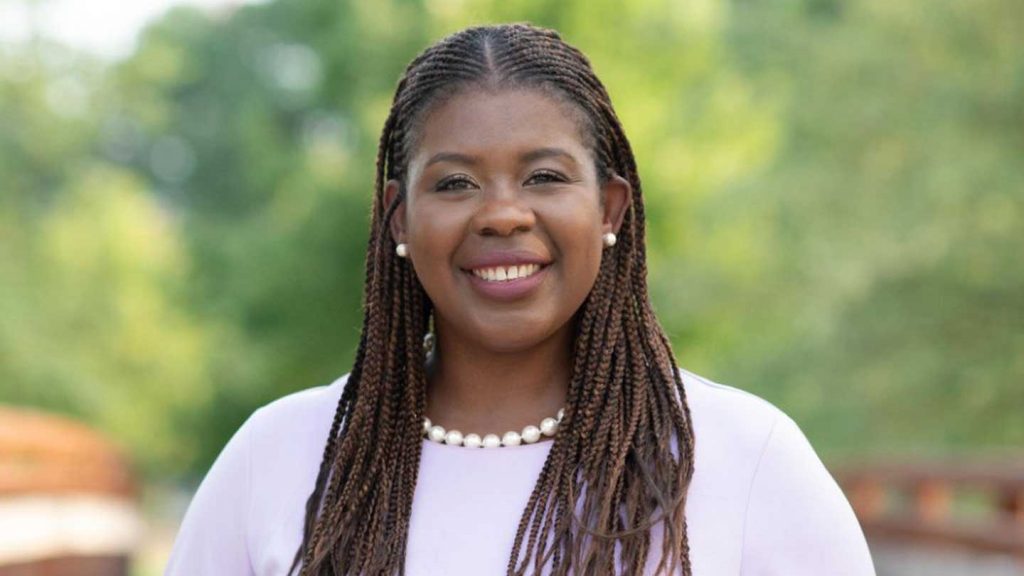 Commissioner Violet Edwards made history in November of 2020 as the first Black woman elected to the Madison County Commission – shattering the glass ceiling that has stood for 212 years.
Hailing from Cordova, Alabama, Commissioner Edwards holds a communications degree from the University of Alabama and an MBA from The University of Alabama in Huntsville. She is an avid advocate for the homeless and programs that empower women and our youth.
Edwards is a former journalist, businesswoman, and non-profit director.
---
February 2021 Meeting on Zoom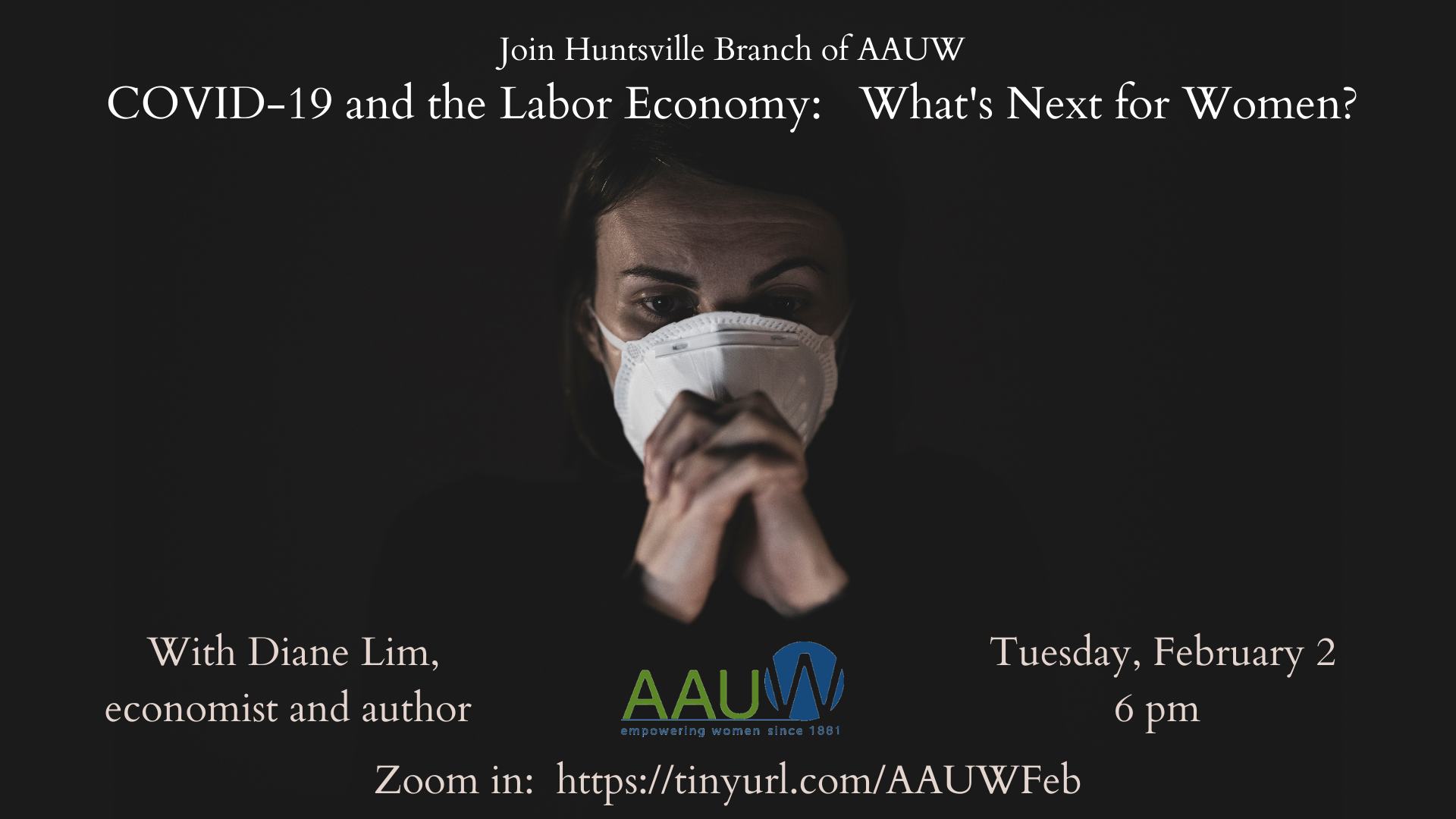 Join the Huntsville Branch of AAUW virtually for an in-depth look at how the pandemic has affected women's economic situations, now and going forward, in ways you might not have imagined.
Tuesday, February 2, 6 – 7 pm.
Diane Lim, economist and author of EconomistMom blog will be our speaker.
Women of all races have suffered unequal setbacks as a result of the pandemic, even if they managed to stay healthy. It's not often that we have a national speaker, and we know you'll enjoy Diane's talk and the information she has to share. Diane lives and works in the greater DC area. Click on this link to view the slides of this presentation.
---
2019 – 2020 PREVIOUS Meetings
Breaking Through Barriers 2020 Luncheon
MENTORING FOR SUCCESS
with Keynote Speaker Alka Bhargav of the AUM Foundation
Friday, March 13, 2020
11:30 am to 1 pm
The Jackson Center
6001 Moquin Dr., NW, Huntsville, AL 35806
Keynote speaker Alka Bhargav is a community leader and women's empowerment advocate.  Founder of the AUM Foundation, which has provided 75 young women with invaluable resources for their futures by providing them with mentors, enrichment courses, career exploration opportunities, and scholarship money.
Cost: $50 per lunch, or $400 for a table of 8
About our speaker:  Alka Bhargav has worked in the fields of vocational rehabilitation, human resources and education. She retired as HR director for Tecvox OEM Solutions in 2013. For many years, Alka had desired to use her professional and life experiences to empower young women from under-resourced backgrounds to fulfill their  potential. In 2014, her dreams became a reality when Alka and her husband started the AUM Foundation.
Proceeds of the AAUW Breaking Through Barriers Luncheon will send local college women to AAUW's life-changing National Conference for Collegiate Women Student Leaders (NCCWSL).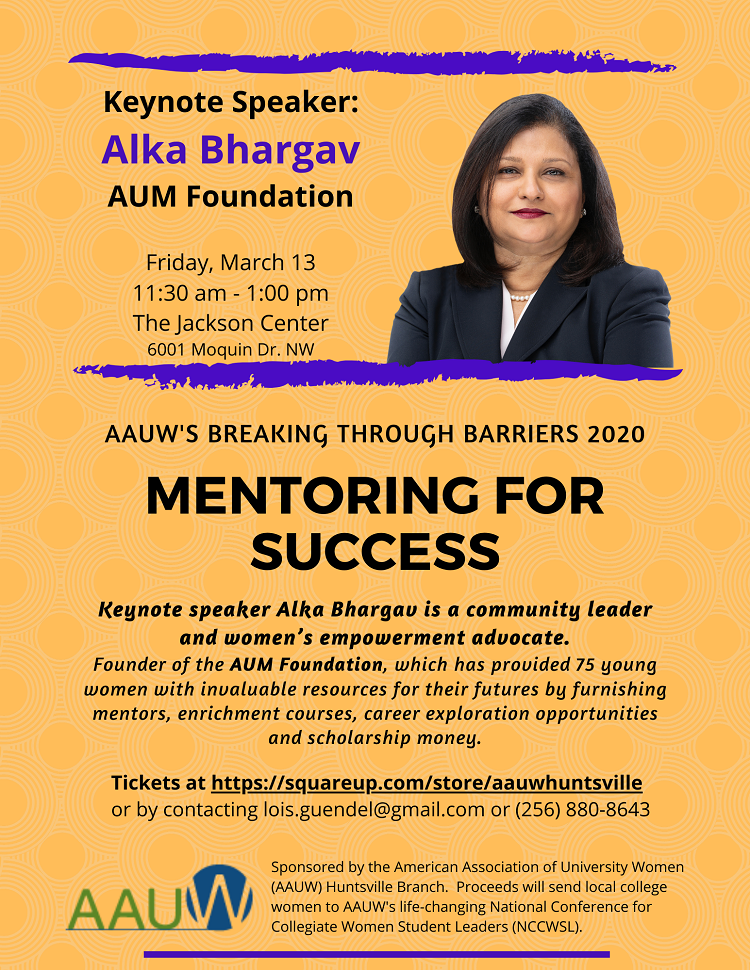 .
---
February Meeting
AAUW Movie Night, featuring the National Geographic documentary, Women of Impact:  Changing the World
Where:  UAH Shelby Center on the University of Alabama Huntsville Campus, Room 301
Link to the UAH Campus: http://www.uah.edu/map
The Shelby Center is number 20 on the map.
Date: Tuesday, February 4, 2020
Time: 5:30 pm to 7:00 pm
Agenda: We will have a meal, short business meeting, and watch this 44-minute National Geographic movie with Discussion afterwards.
Free Popcorn
Optional Meal for $17; Reservations by Noon on Sunday, February 2, 2020
Pay at SquareUP or contact Lois for reservations at lois.guendel@gmail.com
Instructions to get to Room 301:
Enter the Shelby Center through the south entrance (from the former main parking lot).
Turn right and follow the hallway signs to the elevator (around the corner and on the right).
Go to the 3rd floor.
Follow the hallway that wraps around the elevator to the right.
Go half-way down this hallway and turn right.
Continue half-way down this hallway and turn left.
Room 301 will have a wood/glass door and a wood sign that says "Faculty and Staff Lounge."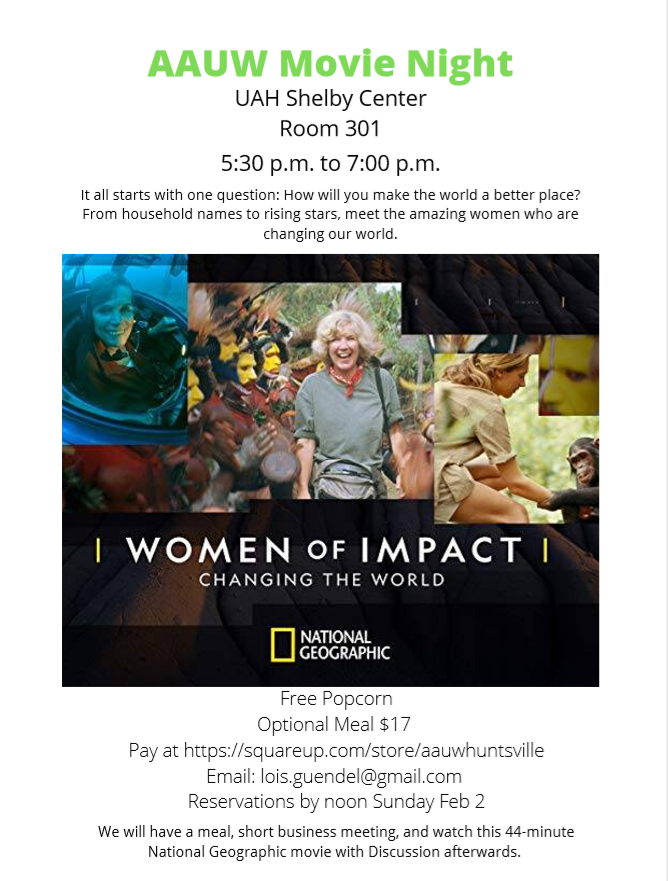 ---
January AAUW Huntsville Branch Brunch – Postponed, Due to Weather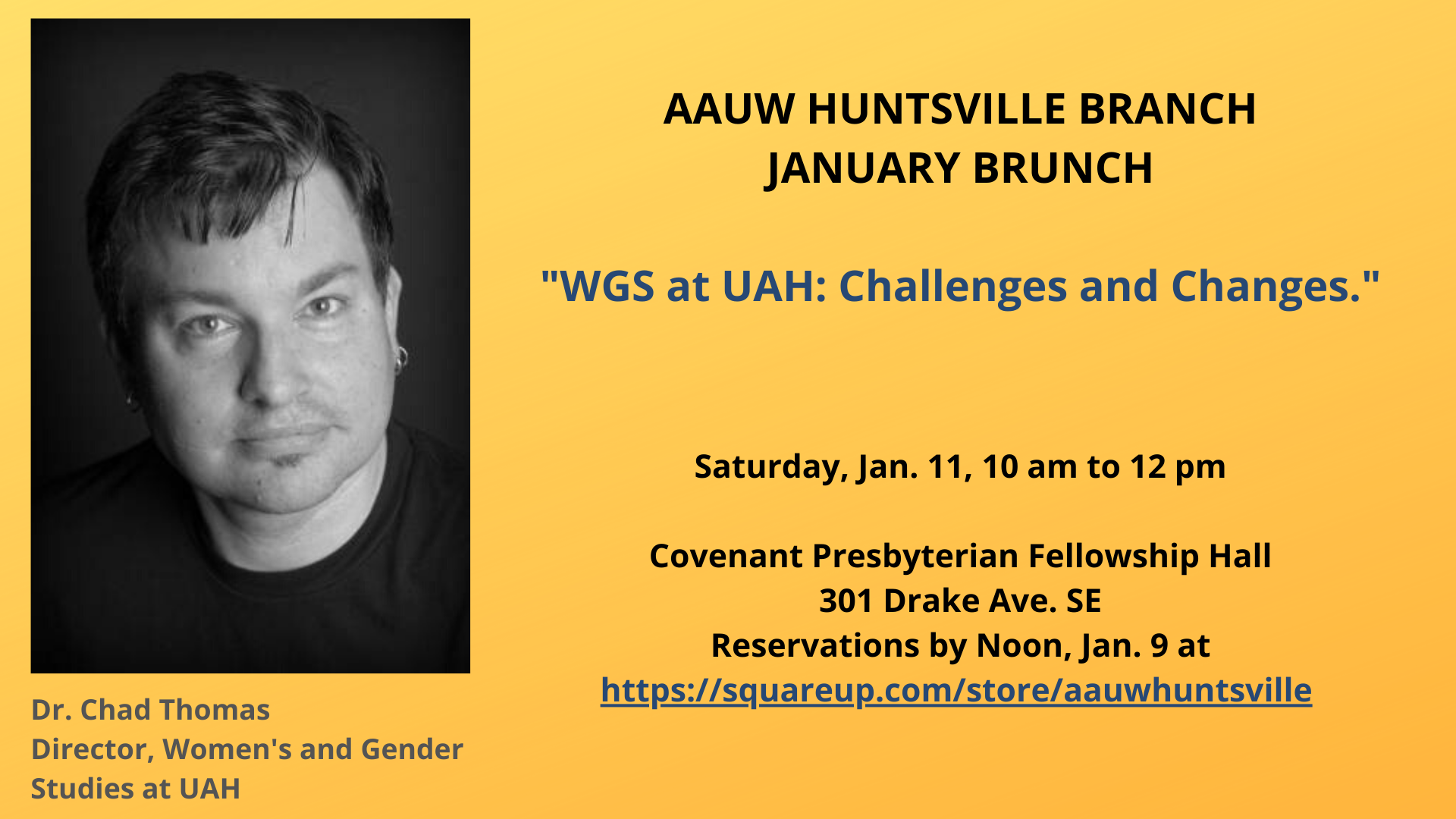 When:  Saturday, January 11, 2020, 10 am to 12 pm
Where:  Covenant Presbyterian Church Fellowship Hall, Huntsville, AL
Reservations by Noon, Jan. 9 at SquareUp or contact Lois for reservations at lois.guendel@gmail.com.  Menu To Be Announced
"WGS at UAH: Challenges and Changes"
Dr. Chad Thomas, Associate Professor of English and director of the Women's and Gender Studies program at UAH, will discuss the program in terms of past, present,and future with a particular emphasis on the challenges faced by the program in the current political/cultural climate and the ways the program is changing to meet the needs of stakeholders and students.
About Women's and Gender Studies at UAH
As an area of scholarship, Women's and Gender Studies focuses on the contributions, perspectives, and experiences of women in all areas of human endeavor, including the status, portrayal, or achievements of women in areas such as art, history, literature, science, business, engineering, and medicine. The Women's and Gender Studies perspective exposes knowledge previously invisible in our intellectual environment and develops theoretical perspectives concerning these omissions. It also promotes greater understanding of gender as a fundamental category of meaning, examining the pervasive and often unacknowledged ways that gender shapes and changes our social institutions, individual knowledge, and interpersonal relationships.
Our Speaker
Chad Thomas is an associate professor of English and Director of Women's and Gender Studies at the University of Alabama in Huntsville. He also works with the Theatre program at UAH as an actor, dramaturg, and director, and he co-founded Huntsville Shakespeare in 2018. Chad earned his PhD in English from the University of Michigan, and his scholarship focuses on Shakespeare, especially queer cross-gender cast contemporary performances. His work had appeared in 1650-1850: Ideas, Aesthetics, & Inquiries in the Early Modern Period, Theatre Topics, Shakespeare Bulletin, Comparative Drama, and the recent essay collection, Shakespeare on the Campus Stage: College and University Performance (Cambridge University Press). At present, he is co-editing a collection of essays on Scholar-Practitioner Shakespeare and he is writing his first monograph, Performing Queer Shakespeare.
---
December Meeting
The next meeting will be the Christmas Party at Mary Witherspoon's house on Tuesday, December 3, 2019!
---
November Meeting

Our monthly meeting will be on Saturday, November 2 at Cove Presbyterian Church 301 Drake Avenue
The meeting will begin at 10:30 a.m. Brunch will be served at 11:00.
The speaker for the program is David Stewart– Art Professor.
He will be speaking about moving from STEM to STEAM.
The cost of brunch is $17.00
Contact Lois for reservations at lois.guendel@gmail.com by Thursday evening (October 31, 2019) and pay at the door.
---
October Meeting
When: October 1, 2019 (1st Tuesday of the month)
Where: The StoveHouse on Governors Drive
Time: 5:30 pm
What: Join us for food and drinks in a casual atmosphere
Perk: Bring a friend, and if someone joins that night, National Dues are half price!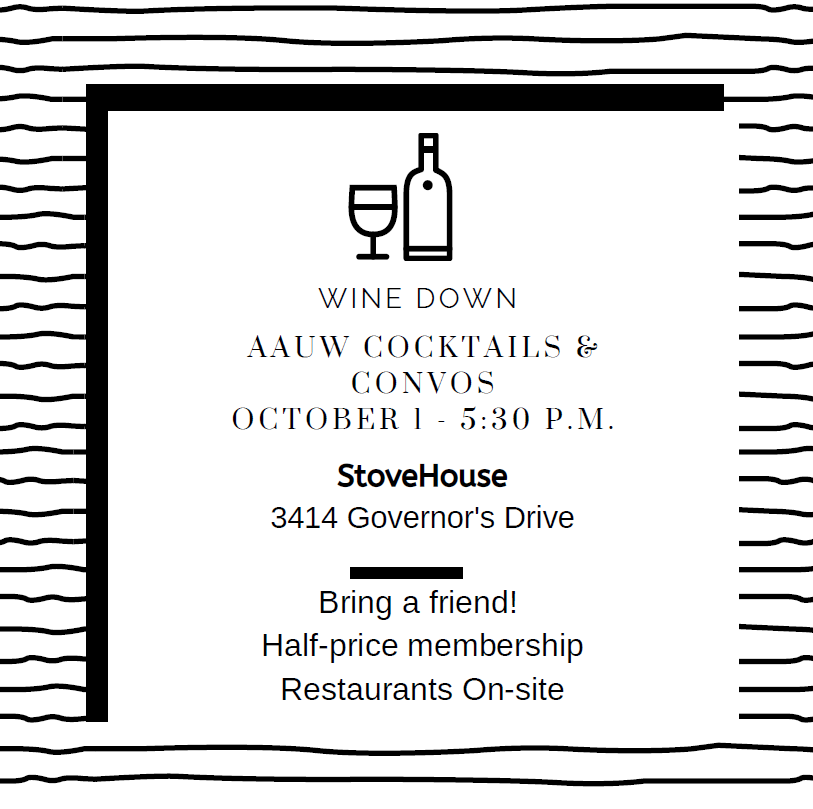 ---
September Meeting
"Paying it Forward:  NCCWSL Attendees." AAUW Huntsville were able to assist several students in attending the National Conference of Collegiate Women Student Leaders at the University of Maryland. They will share their experiences and ways in which they can use the experience to "pay it forward".
Join us on September 3 at 5:30 at Covenant Presbyterian Church 301 Drake Ave. Huntsville, AL
If you would like to purchase dinner for $17, contact Lois Guendel at lois.guendel@gmail.com to make reservations.