Next Meeting
Stay tuned for Next Meeting info!
---
January AAUW Huntsville Branch Brunch – Postponed, Due to Weather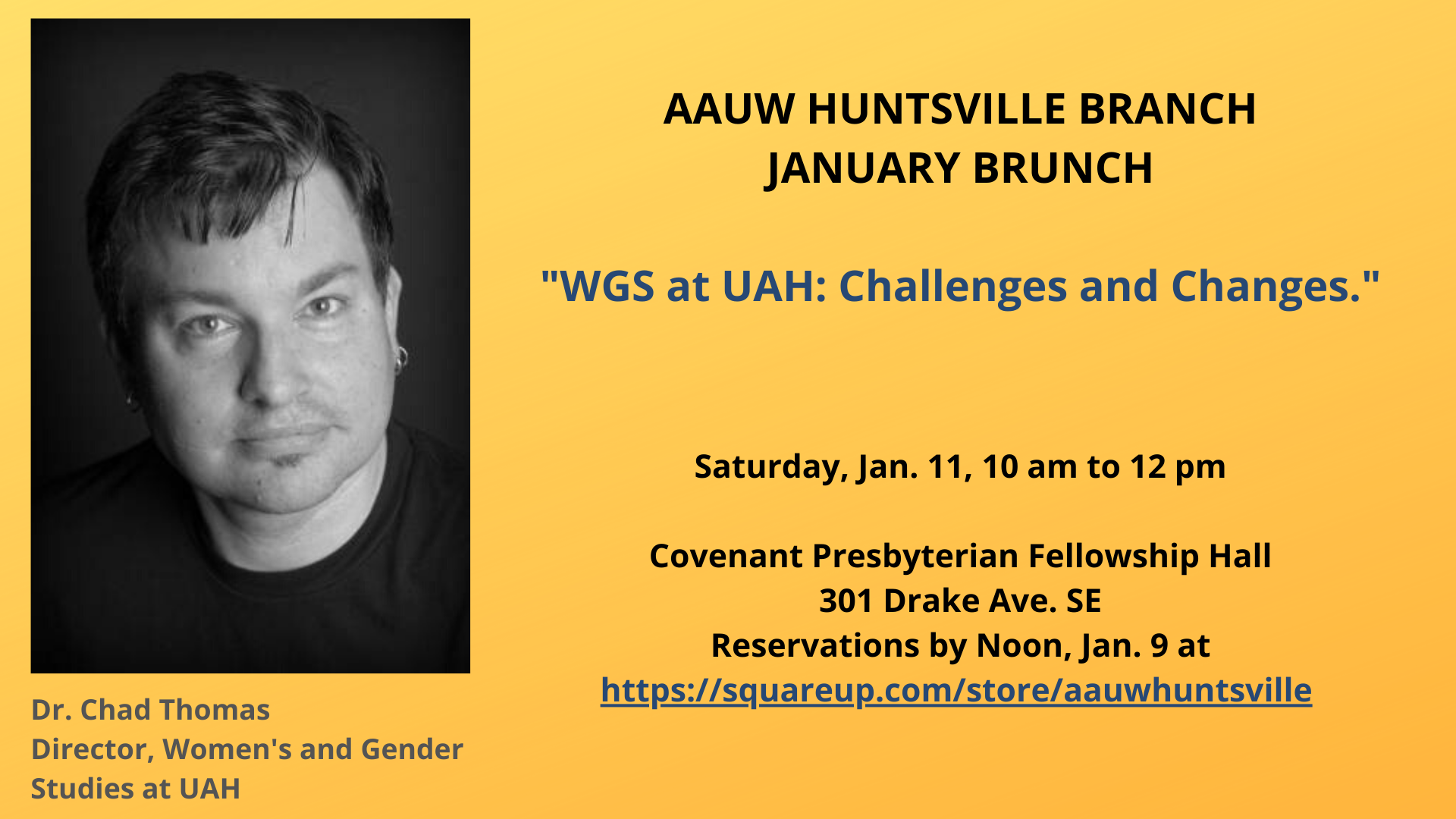 When:  Saturday, January 11, 2020, 10 am to 12 pm
Where:  Covenant Presbyterian Church Fellowship Hall, Huntsville, AL
Reservations by Noon, Jan. 9 at https://squareup.com/store/aauwhuntsville or contact Lois for reservations at lois.guendel@gmail.com.  Menu To Be Announced
"WGS at UAH: Challenges and Changes"
Dr. Chad Thomas, Associate Professor of English and director of the Women's and Gender Studies program at UAH, will discuss the program in terms of past, present,and future with a particular emphasis on the challenges faced by the program in the current political/cultural climate and the ways the program is changing to meet the needs of stakeholders and students.
About Women's and Gender Studies at UAH
As an area of scholarship, Women's and Gender Studies focuses on the contributions, perspectives, and experiences of women in all areas of human endeavor, including the status, portrayal, or achievements of women in areas such as art, history, literature, science, business, engineering, and medicine. The Women's and Gender Studies perspective exposes knowledge previously invisible in our intellectual environment and develops theoretical perspectives concerning these omissions. It also promotes greater understanding of gender as a fundamental category of meaning, examining the pervasive and often unacknowledged ways that gender shapes and changes our social institutions, individual knowledge, and interpersonal relationships.
Our Speaker
Chad Thomas is an associate professor of English and Director of Women's and Gender Studies at the University of Alabama in Huntsville. He also works with the Theatre program at UAH as an actor, dramaturg, and director, and he co-founded Huntsville Shakespeare in 2018. Chad earned his PhD in English from the University of Michigan, and his scholarship focuses on Shakespeare, especially queer cross-gender cast contemporary performances. His work had appeared in 1650-1850: Ideas, Aesthetics, & Inquiries in the Early Modern Period, Theatre Topics, Shakespeare Bulletin, Comparative Drama, and the recent essay collection, Shakespeare on the Campus Stage: College and University Performance (Cambridge University Press). At present, he is co-editing a collection of essays on Scholar-Practitioner Shakespeare and he is writing his first monograph, Performing Queer Shakespeare.
---
2019 – 2020 PREVIOUS Meetings
December Meeting
The next meeting will be the Christmas Party at Mary Witherspoon's house on Tuesday, December 3, 2019!
---

Our monthly meeting will be on Saturday, November 2 at Cove Presbyterian Church 301 Drake Avenue
The meeting will begin at 10:30 a.m. Brunch will be served at 11:00.
The speaker for the program is David Stewart– Art Professor.
He will be speaking about moving from STEM to STEAM.
The cost of brunch is $17.00
Contact Lois for reservations at lois.guendel@gmail.com by Thursday evening (October 31, 2019) and pay at the door.
When: October 1, 2019 (1st Tuesday of the month)
Where: The StoveHouse on Governors Drive
Time: 5:30 pm
What: Join us for food and drinks in a casual atmosphere
Perk: Bring a friend, and if someone joins that night, National Dues are half price!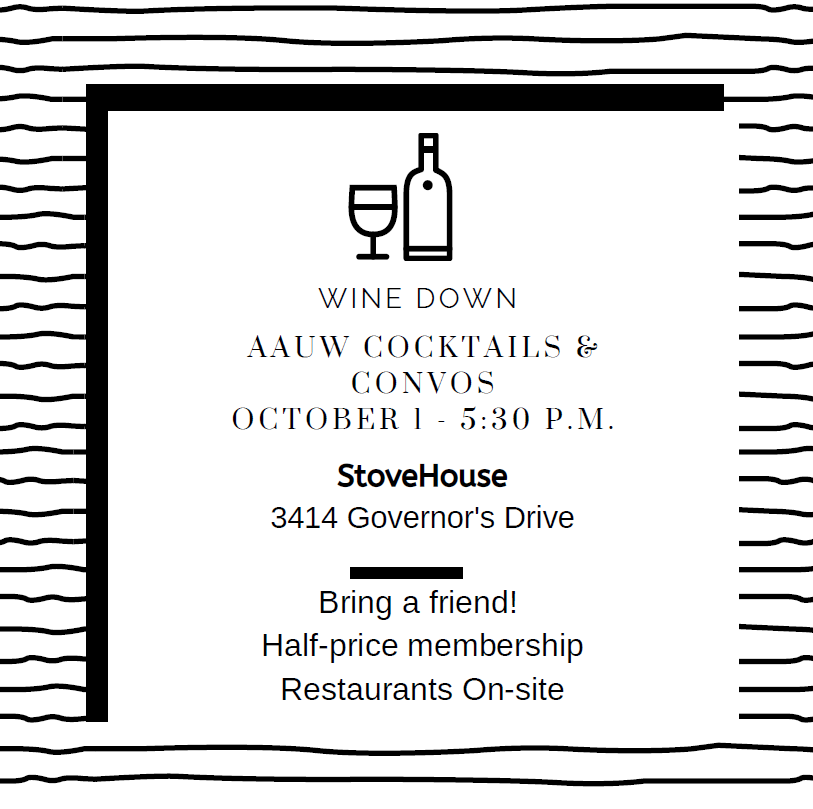 ---
"Paying it Forward:  NCCWSL Attendees." AAUW Huntsville were able to assist several students in attending the National Conference of Collegiate Women Student Leaders at the University of Maryland. They will share their experiences and ways in which they can use the experience to "pay it forward".
Join us on September 3 at 5:30 at Covenant Presbyterian Church 301 Drake Ave. Huntsville, AL
If you would like to purchase dinner for $17, contact Lois Guendel at lois.guendel@gmail.com to make reservations.