LUNCH.COM
Lunch.Com meets every Friday at 12:30 p.m. for lunch. Contact Lorraine Mullin for a lunch reservation.
GREAT DECISIONS
Great Decisions meets the second Tuesday of the month at 7:30 p.m. Contact Mary Witherspoon for more information.
MORNING BRIDGE
Morning Bridge meets the third Tuesday of the month at 9:30 a.m. Contact Mary Johnson for more information.
BOOK CLUB
¡Adelante! Book of the Month Club usually meets on the fourth Monday of each month at 5:30 p.m. The September meeting will take place on Monday, September 26, 2022, at
5:30 pm on Zoom. For more information, contact: Karen Rudiger, Patricia Smith, or June Wilson. For Zoom meetings, please register with June Wilson a few days before the meeting.
A new 2022-2023 Booklist is in the works!  Stay tuned!
September Book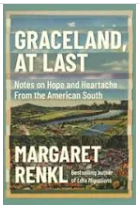 Graceland, At Last: Notes on Hope and Heartache from the American South by Margaret Renkl