Next Meeting 
Our program theme for this year is Women in STEM.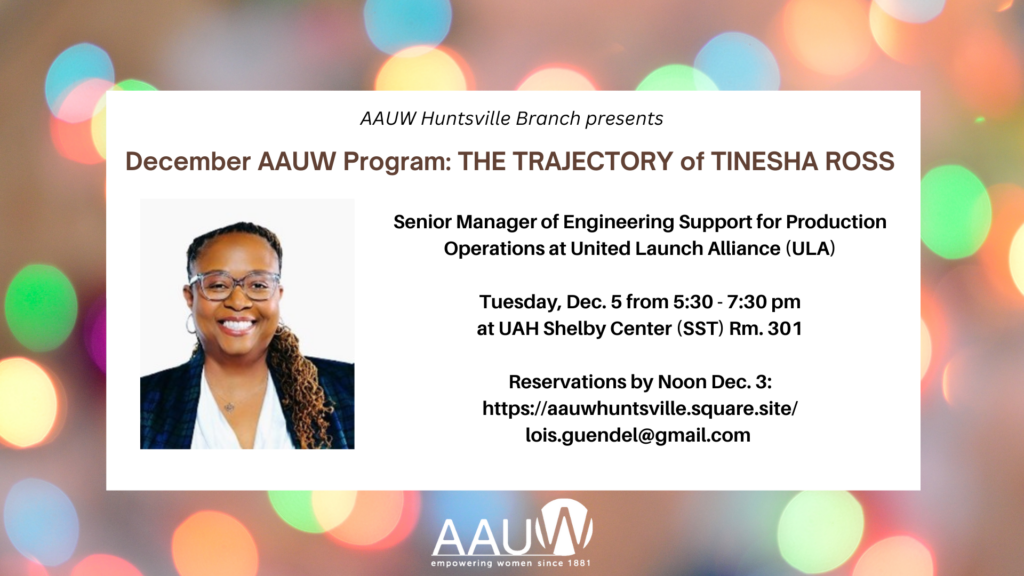 Learn how one young girl from Fairfield, Alabama, an industrial steel town, was ignited for lift-off to pursue her dreams, achieving professional success in an exciting industry, despite the discouragement from her peers and high school teachers in the 90's.https://aauwhuntsville.square.site/Ms. Ross is currently a Senior Manager of Engineering Support for Production Operations at United Launch Alliance (ULA), a leader in commercial space flight with a 100% success rate…  Please join us Tuesday, December 5th at 5:30 pm in Rm. 301 of the Shelby Center for Science & Technology (SST). Dinner at 5:45 & program at 6:15.
Register at 
For more information about our speaker, registration, and meeting location, please visit our Calendar Page.
Please help spread the word by sharing this email or our Facebook event:  https://www.facebook.com/events/751747550129738
---
Thank You AAUW Huntsville Branch Tech Trek 2023 Volunteers!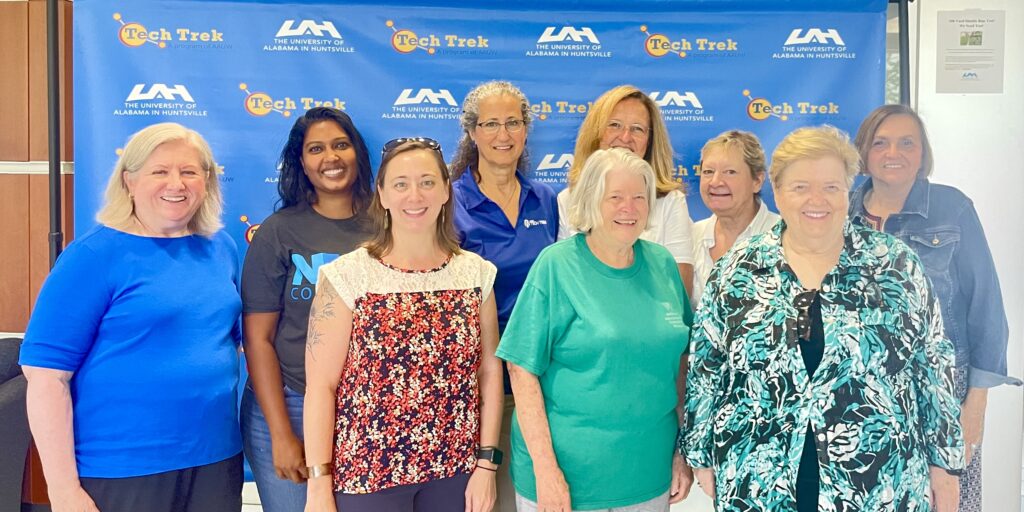 Tech Trek is a residential, STEM program for rising 8th grade girls offered by American Association of University Women (AAUW) Huntsville branch and the University of Alabama in Huntsville (UAH).
---
Checkout what we're doing, saying, and meeting about these days on our Facebook page:  https://www.facebook.com/groups/aauwhuntsville/
---
Ongoing Events
Join the ¡Adelante! Book Club as they discuss the December book, Dear Denise: Letters to the Sister I Never Knew by Lisa McNair. Date: December 18, 2023 (3rd Monday); Time: 5:30 pm; Location: Zoom. Please let Karen Rudiger, Patricia Smith, and June Wilson if you are interested in joining us! Go to our Activities Page for contact info and to read more about the selections.
What AAUW does for women and girls is captured in this cool YouTube video, titled, "Ifs and Onlys and Little Girls' Dreams!"
---
AAUW, the American Association of University Women, is a nationwide network of more than 100,000 members and donors, 1,000 branches, and 500 college/university institution partners.
For more than 128 years, AAUW Members have examined and taken positions on the fundamental issues of the day – educational, social, economic, and political. Our commitment to our mission is reflected in all aspects of our work.
Join us and support an organization with a long track record of crucial issues affecting women:
Education
Civil Rights
Family and Medical Leave
Sex Discrimination … and others
Help our 100,000 members work for change:
Promote gender-fair classroom practices and national legislators on AAUW priority issues
Mentor girls and women
Raise money to fund women scholars
Raise money to fund ground-breaking research
Participate in a community action program or start your own project
While we're known for getting things done, we also take time to enjoy each other's company. As an AAUW member, you will belong to a strong network of talented people, one that can stimulate a lifetime of personal and professional growth.
AAUW's Mission
AAUW advances equity for women and girls through advocacy, education, philanthropy, and research.
AAUW's Value Promise
By joining AAUW, you belong to a community that breaks through educational and economic barriers so that all women and girls have a fair chance.
………………………………………………………………………………………….
AAUW was founded in 1881, in Boston, Massachusetts. The Huntsville Branch was chartered in April 1949. AAUW is open to all graduates who hold an associate, baccalaureate or higher degree from a college or university on the list of qualified institutions. Undergraduates are welcome to become AAUW student affiliates.
AAUW values and seeks a diverse membership. There are no barriers to full participation in the group on the basis of gender, race, creed, age, sexual orientation, national origin, disability, or class. Membership is not by invitation.