Next Meeting
Next meeting: March 6, 2018
Stay tuned for details!
Save the Date: Breaking through Barriers Luncheon, April 6, 2018
---
2018 Women's March and AAUW
Enjoy photos of AAUW at the 2018 Women's March in Huntsville, AL!
Click on this link to our Photo Gallery!
---
ALA-WSL!
14th Annual ALA-WSL
Alabama Women Student Leadership Conference
[Create a climate of support among women]
Hosted by The American Association of University Women (AAUW) of Alabama and AAUW at Athens State University Student Organization
Guest Speaker: Dr. Jan Davis, Former NASA Astronaut
When: March 3, 2018
Time: 8:30 am to 4:00 pm
Location: Athens State University
Registration has closed.
To view the 14th Annual ALA-WSL Flyer in PDF, click here.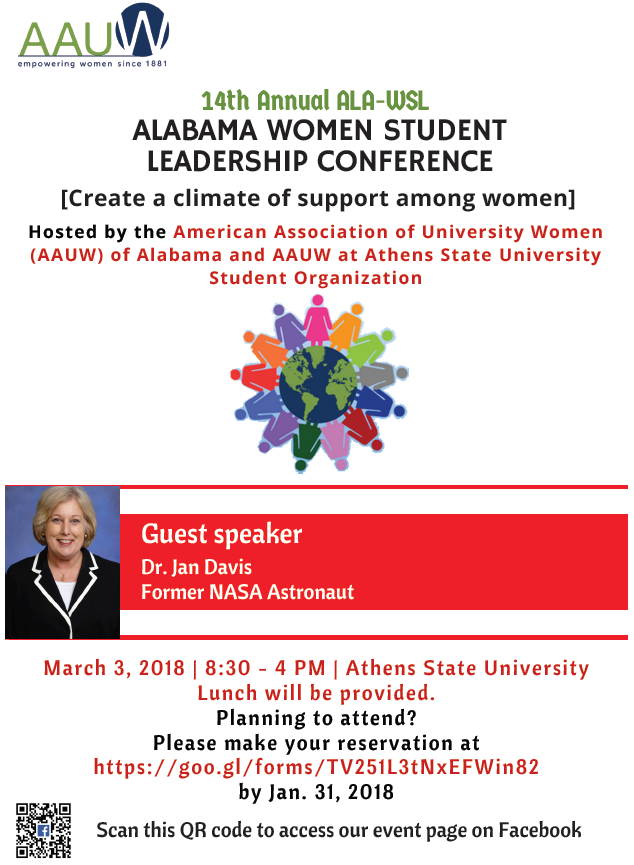 ---
NCCWSL!
NATIONAL CONFERENCE for COLLEGE WOMEN STUDENT LEADERS
May 30 – June 2, 2018
University of Maryland, College Park
https://www.nccwsl.org/
November 1, 2017: Early-Bird Registration and National Scholarship Application Open
– Save $120 by registering at our Early Bird price of $465.
– Registration includes $100 refundable deposit per registrant due at time of registration (must pay in full by January 31, 2018, to avoid automatic cancellation of registration).
– Call for national scholarship applications opens.
Please note: National scholarship applicants need only fill out a scholarship application. Do not fill out a separate conference registration.
January 31, 2018: Early-Bird Registration Ends
– Last day to register with fully refundable registration. After this date, $100 deposit will not be refunded.
– Early-bird registrations must be pain in full by January 31, 2018, at 11:59 pm.
February 1, 2018: Regular Registration Opens
– Registration fees increase to $585.
– Includes nonrefundable $100 deposit per registrant due at time of registration.
– Early-bird registrants who have not paid in full are removed from registration and refunded their deposit.
February 28, 2018: National Scholarship Closes
– Last day to apply for our national scholarship
– Accepted applicants will be registered by AAUW staff and declined applicants will be eligible to register at the early-bird rate.
April 30, 2018: Registration Ends
– Registration closes at 11:59 pm. E.T.
– Payments are due in full.
– Registrants who have not paid in full forfeit their $100 deposit and are removed from registration.
Please note: We will not be accepting registrations after this date.
For complete Registration Info, click on this link: https://www.nccwsl.org/registration/.



---
Ongoing Events
Join the ¡Adelante! Book Club as they discuss The Firebrand and the First Lady: Portrait of a Friendship By Patricia Bell-Scott. Date: TBD; Time: 5:30 pm; Location: TBD; Please let Karen Rudiger, Patricia Smith, and June Wilson know if you will be joining us! Go to our Activities Page to read more about this month's selection.
AAUW Polo Shirts! Click on this link to view a picture of the shirt and pricing. Contact Tawanna Townsend at mstownsend7@gmail.com to place your order!
What AAUW does for women and girls is captured in this cool YouTube video, titled, "Ifs and Onlys and Little Girls' Dreams!"
---
2017 Tech Trek:

June 18-24, 2017
Tech Trek is an exciting and engaging one-week summer camp for girls featuring hands-on science and technology classes, a fun and educational field trip, opportunities to meet inspiring women role models, and a unique college campus experience. To attend, families need only pay a $50.00 registration fee. Stay tuned for a follow-up on this year's Tech Trek Camp!
---
2016 Tech Trek Follow Up!
The September Program meeting allowed the Huntsville Branch members hear about Tech Trek, both from participants and from the organizers and volunteers. Go to our September Meeting Photo Gallery page to see pictures from the meeting. Visit our 2016 Tech Trek page to see images of participants and volunteers.
And if that's not enough, check out the slideshow!
2016 NCCWSL Follow Up!
Ashley Williams and Kimberly Oden, attendees of the 2016 National Conference for College Women Student Leaders (NCCWSL) AND 2016 Tech Trek counselors, provided a wonderful report on their experiences at NCCWSL at our September Program meeting! Go to our September Meeting Photo Gallery page to see pictures from the meeting.
---
AAUW, the American Association of University Women, is a nationwide network of more than 100,000 members and donors, 1,000 branches, and 500 college/university institution partners.
For more than 128 years, AAUW Members have examined and taken positions on the fundamental issues of the day – educational, social, economic, and political. Our commitment to our mission is reflected in all aspects of our work.
Join us and support an organization with a long track record of crucial issues affecting women:
Education
Civil Rights
Family and Medical Leave
Sex Discrimination … and others
Help our 100,000 members work for change:
Promote gender-fair classroom practices and national legislators on AAUW priority issues
Mentor girls and women
Raise money to fund women scholars
Raise money to fund ground-breaking research
Participate in a community action program or start your own project
While we're known for getting things done, we also take time to enjoy each other's company. As an AAUW member, you will belong to a strong network of talented people, one that can stimulate a lifetime of personal and professional growth.
AAUW's Mission
AAUW advances equity for women and girls through advocacy, education, philanthropy, and research.
AAUW's Value Promise
By joining AAUW, you belong to a community that breaks through educational and economic barriers so that all women and girls have a fair chance.
………………………………………………………………………………………….
AAUW was founded in 1881, in Boston, Massachusetts. The Huntsville Branch was chartered in April 1949. AAUW is open to all graduates who hold an associate, baccalaureate or higher degree from a college or university on the list of qualified institutions. Undergraduates are welcome to become AAUW student affiliates.
AAUW values and seeks a diverse membership. There are no barriers to full participation in the group on the basis of gender, race, creed, age, sexual orientation, national origin, disability, or class. Membership is not by invitation.