Next Meeting
The Attack on Title IX
Title IX is responsible for sweeping changes to opportunities in education for women and men, students and employees since it was enacted in 1972.
The U.S. Department of Education has been working to systematically dismantle Title IX protections by rescinding critical guidance documents in September 2017. The Department of Education, under Betsy DeVos, has now announced a plan to make sweeping changes to Title IX's regulations, which would have significant implications for students' civil rights and for federal enforcement of the law.
Learn the potential impact of these changes and what's happening at our local universities on January 12.
When: Saturday, January 12, 2019, 10 am to 12 pm
Location:  The Ernest L. Knight Reception Center, 4900 Meridian St., Normal AL 35762, on the Alabama A&M Campus
Cost for brunch is $15. Please consider donating a brunch meal for a student as well.
Payment for brunch: Please contact Lois Guendel at lois.quendel@knology.net to pay at the door or pay online at https://squareup.com/store/aauwhuntsville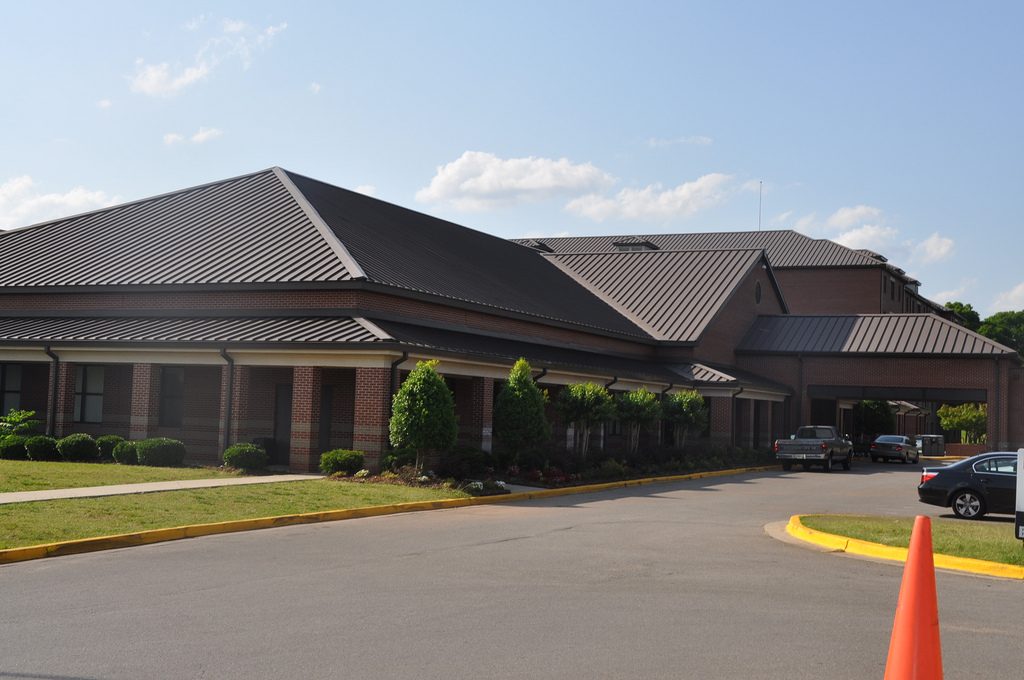 Ernest L. Knight Reception Center
---
Tinsel Trail Tree – Check It Out!
Check out our AAUW Tree and League of Women's Voter Tree at the Tinsel Trail. We are located right off Church Street entrance – on the waterside.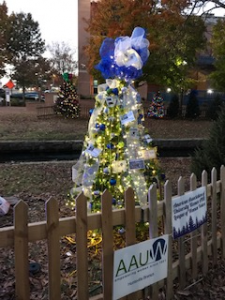 ---
AAUW-AL Leaders!
It happened!
Alabama Lawmaker Pitches Equal Pay Legislation Amid #MeToo Momentum
Alabama and Mississippi are the only two states left in the country without a statewide equal pay law. One state lawmaker wants the Legislature to change that before the 2018 session concludes. State Rep. Adline Clarke, D-Mobile, is sponsoring HB368, the "Gender Pay Gap" bill, which would prohibit employers from paying employees of the opposite sex lower wages for the same work and responsibility. Employers can be sued, under the proposal, if an employee was fired based on sex discrimination.
The MeToo Moment has sparked Alabama women and men. We need your help! There are only two states in America that have not passed a pay equity bill. Sadly, it includes us. Now is the time for us to rally behind this moment and let's get STEP ONE of this pay equity bill moving.
Leevones G. Fisher, AAUW-AL President
---
2018 Women's March and AAUW
Enjoy photos of AAUW at the 2018 Women's March in Huntsville, AL!
Click on this link to our Photo Gallery!
---
Ongoing Events
Join the ¡Adelante! Book Club as they discuss the December book, Enchanted Evening Barbie and the Second Coming, by Rheta Grimsley Johnson and the January book, Just Mercy: A Story of Justice and Redemption, by Bryan Stevenson. Date: Monday, January 28, 2019; Time: 5:30 pm; Location: City Cafe Diner on Drake Avenue. Please let Karen Rudiger, Patricia Smith, and June Wilson know if you will be joining us! Go to our Activities Page to read more about this month's selection.
AAUW Polo Shirts! Click on this link to view a picture of the shirt and pricing. Contact Tawanna Townsend at mstownsend7@gmail.com to place your order!
What AAUW does for women and girls is captured in this cool YouTube video, titled, "Ifs and Onlys and Little Girls' Dreams!"
---
AAUW, the American Association of University Women, is a nationwide network of more than 100,000 members and donors, 1,000 branches, and 500 college/university institution partners.
For more than 128 years, AAUW Members have examined and taken positions on the fundamental issues of the day – educational, social, economic, and political. Our commitment to our mission is reflected in all aspects of our work.
Join us and support an organization with a long track record of crucial issues affecting women:
Education
Civil Rights
Family and Medical Leave
Sex Discrimination … and others
Help our 100,000 members work for change:
Promote gender-fair classroom practices and national legislators on AAUW priority issues
Mentor girls and women
Raise money to fund women scholars
Raise money to fund ground-breaking research
Participate in a community action program or start your own project
While we're known for getting things done, we also take time to enjoy each other's company. As an AAUW member, you will belong to a strong network of talented people, one that can stimulate a lifetime of personal and professional growth.
AAUW's Mission
AAUW advances equity for women and girls through advocacy, education, philanthropy, and research.
AAUW's Value Promise
By joining AAUW, you belong to a community that breaks through educational and economic barriers so that all women and girls have a fair chance.
………………………………………………………………………………………….
AAUW was founded in 1881, in Boston, Massachusetts. The Huntsville Branch was chartered in April 1949. AAUW is open to all graduates who hold an associate, baccalaureate or higher degree from a college or university on the list of qualified institutions. Undergraduates are welcome to become AAUW student affiliates.
AAUW values and seeks a diverse membership. There are no barriers to full participation in the group on the basis of gender, race, creed, age, sexual orientation, national origin, disability, or class. Membership is not by invitation.